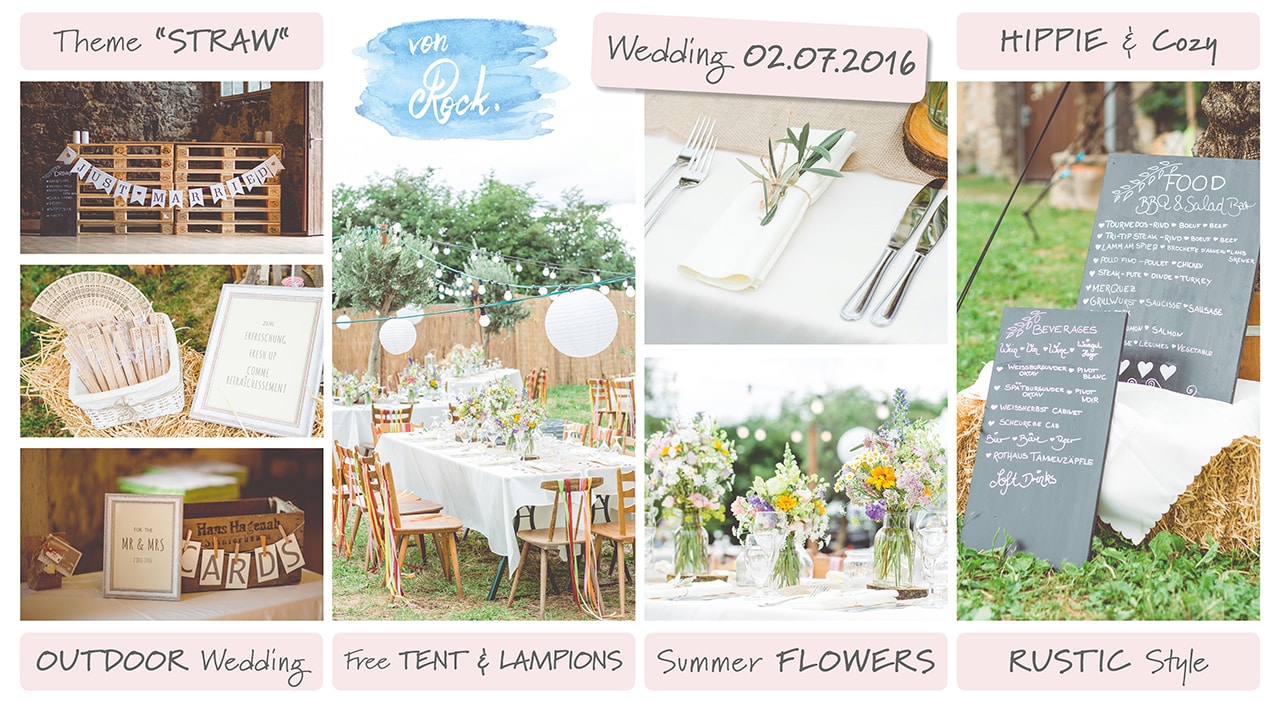 12 Jul

Unique garden wedding at Castle Burkheim

Wedding 2nd of July, 2016 –  What a party!

We the wedding planner started the construction for this wonderful garden wedding four days before the wedding day. Olive trees, pallettes, pieces of furniture, candles-lightes rallies, straw bales, a market carriage, free tent and many things more were delivered to the location. of course everything must be co-ordinated very well. The weather is summery warm about the days, indeed, it shows on the wedding day unstableness in excitingly for us wedding planner from Freiburg :). A
gigant are is altered to a garden wedding and many details decorates the party: the dinner board under the sky with trees and candle lighted rallies, straw sofas, big free tent, palette lounges, comfortable sofas, lampions, signposts, hand-painted boards, a market carriage as a drink station and a lot more.
The guests are inspired!
Later there is a fine barbecue with pulled Pork, salmon and vegetables. The berry heart wedding cake will be cut before the wedding dance. Then the party starts in the old castle area till the early morning hours. Our palettes bar invites to some drinks.

wedding planning & decor by Anna-Maria

Many thanks dear bride and groom for this exciting preparation time. It has given to us a lot of pleasure to accompany you and your families to this unique party!
"Hello Anna-Maria, many thanks for EVERYTHING! We have received so many compliments from our guests- the decoration and organization were simple brilliant!!
My heart has stopped as i walked up to the location.:):):)"
Sylvia and Nicholas from Zürich
Our vonRock products are rented individually and exclusively. Would you like to rent a tent for your celebration?
Our free tent is suitable an ansolute eye-cacher!
We also have a drink donator, sofas, lights, cushions and vases you can find everything in our vonRock Shop.