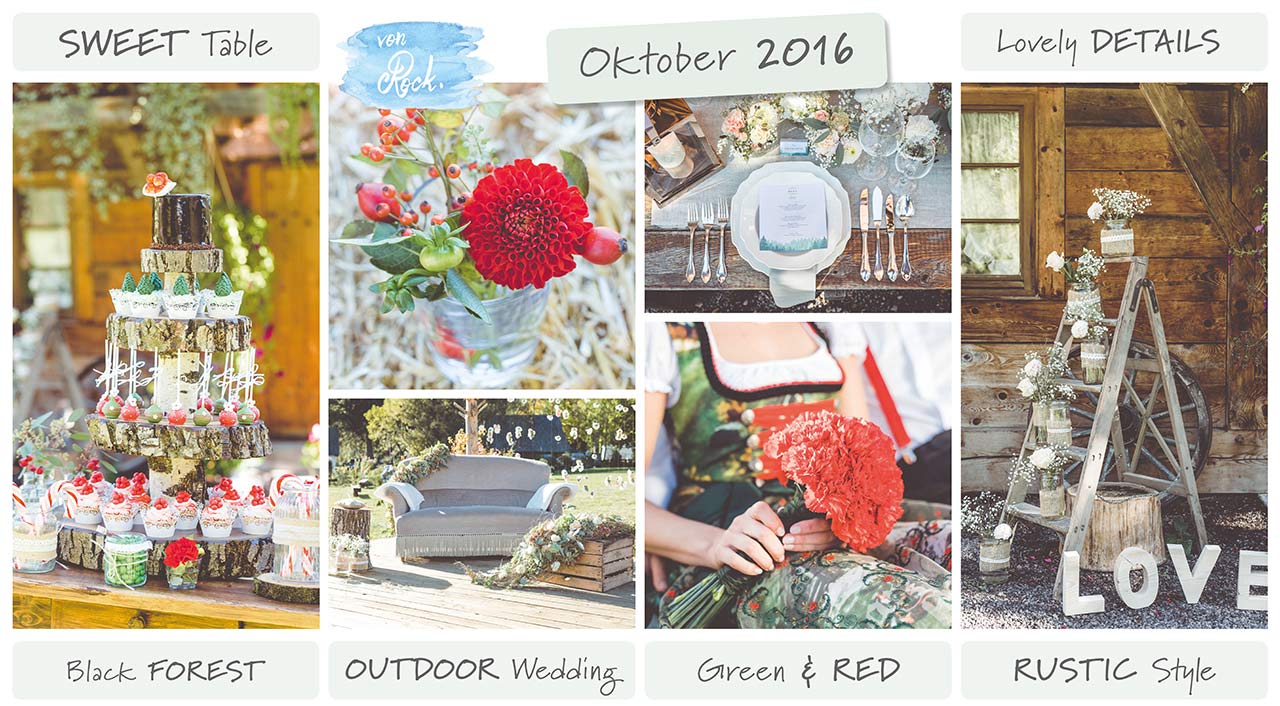 09 Nov

A Fall inspired wedding: Henslerhof in Hinterzarten

A Fall inspired wedding in october 2016! black forest festivities
! Wow! What a day! Our concept is obvious: a free wedding on a wooden pavilion in the meadows amidst a picturesque Black Forest sceanery. The sun rays gleam through the clouds, the flower curtains sways gently in the light wind. The guests warm themselves on the cozy lambskin. The bride and groom sits as well comfortably on our special wedding sofa "emma". Soon after we start off the day with a black forest champagne & a scheibel schnapps ( traditional liquor) in addition to a vesperplatte ( traditional German snacks) served for all guests. The children play & rock on the beautiful green pasture. For those with a sweet tooth can nibble on our beloved collection of confectioneries such as firs-cupcakes & black forest cakepops from our sweets table. Of course the wedding cake is decorated with Black Forest cherry & a bollenhute ( traditional Black Forest hat). All guests proceed to the theme dinner / evening traditional celebrations dressed up in black forest styled attire. The bride impresses everyone with her schwarzwalddirndl. The schwarzwaldcouture-looks fascinating. The bridal bouquet: red pinks! simply pretty! the shoes: in red. What else can complete the look better? 🙂 The bridegroom compliments  his better half with red bow tie and matching red suspenders. The dinner will be all noble! The guests take their seat on the  finely covered tables with  copper lanterns & romantic florals. The self made black forest wedding stationery -series by Vonrock are definitely the added extras. Plan your dream wedding with us at the beautiful location of schwarzwald( Blackforest) at freiburg. It is definitely one the most beautiful regions in germany! We the wedding planners develop exquisite concepts & designs catered just for you. We welcome the guests on  the wedding day catering to every single details. We take utmost care for the smooth flow & total preparations for the wedding day and are always available within hands reach of the wedding couple. We create amazing and unique concepts for events ! Boring is a word that cannot be found in our dictionary! Enchant your guests with us together with an exceptional event decorations and wedding decorations. Event planning from freiburg, lörrach, about the black forest wedding until the lake constance – we are available at your service . Your event is our passion. Personalised, stylish and unique! We look forward to hear from you.