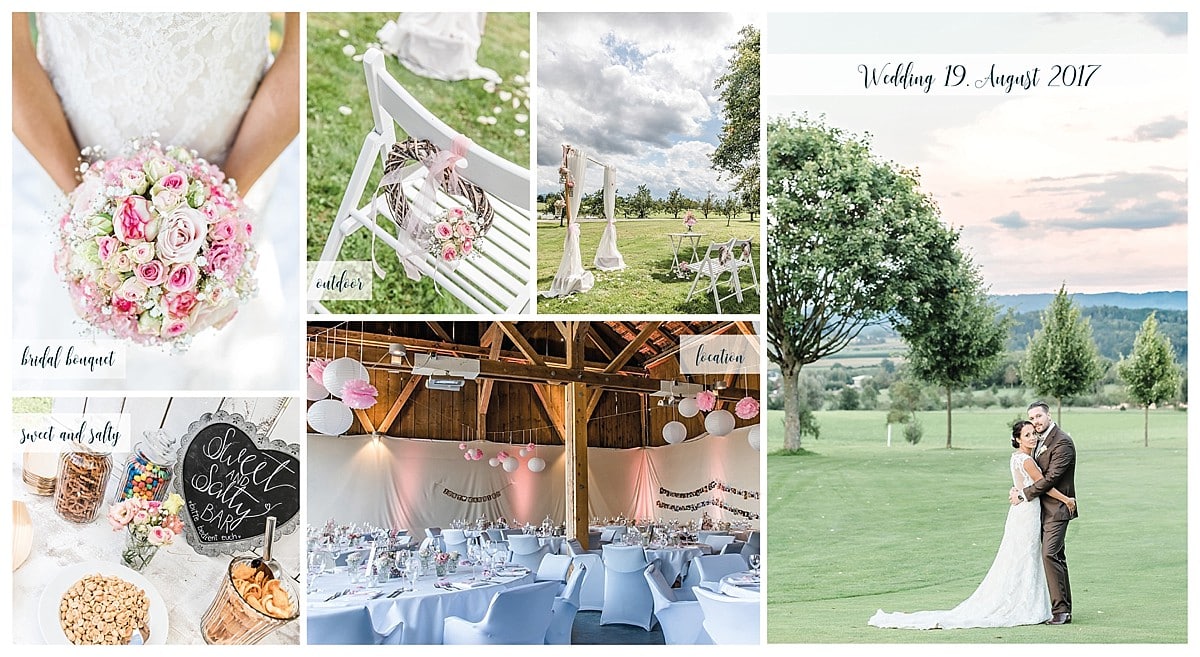 27 Oct

The romantic wedding of Anja & Oli at the Lugenhof in Owingen

Our bridal couple Anja & Oli approached us last year and wanted to grow into a real family together with their sweet daughter Lara. That's why they chose the matching wedding motto "Three becomes one". The location should be in the Lake Constance region and have a lot of green around it. Said done, the Lugenhof in Owingen has done it. A great barn with green area as far as the view reaches, since the location is located in the middle of a golf course, with a cute little pond.

After that we started with the planning: Service providers were selected, the decoration concept developed, the wedding dress bought, JGAs were celebrated, the food tasted and much more. On August 19, 2017 the big day finally arrived!

The three of us wedding planners left Freiburg for Owingen early in the morning. Then we covered wedding planner with full speed chairs with covers, hung lanterns & pompoms, distributed napkins, draped name tags & presents, decorated the tables, set up toilet baskets, and much more.

The wedding ceremony took place on a small hill overlooking the lake from the golf course.

The set up consisted of white folding chairs and a great background everything from the rental service VonRock. After the emotional ceremony we went to the champagne reception.

The outside area was very important to our bridal couple, they wanted a cosy lounge for the guests. We set up parasols and underneath chic seating groups in white with boxes. For the kids there was a play area consisting of a large carpet with a pallet table. The guests were served with a sweet & salty bar and our photo booth provided a lot of fun. Randy Club provided a perfect musical setting.

In the evening we had a delicious BQQ buffet and a beautiful wedding cake from Rebecca Schweizer, RichtigSüss. In our job as wedding planners, we also coordinate the evening program, the cutting of the wedding cake and the wedding dance.

We wish you three all the best for the future and thank you for your trust in us!